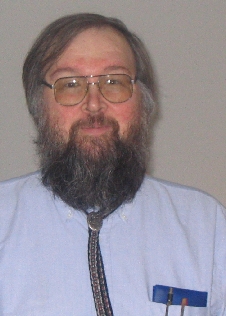 Professor Gerald Q. "Chip" Maguire Jr.


Prof. Gerald Q. Maguire Jr.
Kungliga Tekniska högskolan (KTH)/ KTH Royal Institute of Technology
Skolan för elektroteknik och datavetenskap/School of Electrical Engineering and Computer Science (EECS)
Kommunikationssystem/Communication Systems (CoS)
Electrum 229
SE-164 40 Kista
Sweden

visitaddress:
Wireless@kth,
Isafjordsgatan 22 (Kistagången 16), Electrum Building, "B" Elevator, 4th floor, room 4478
(PNG, JPEG, PDF)



maguire@kth.se (e-mail is the best way to reach me)

                           [note that encoded mail, HTML, spam, ... will simply be deleted]

If you are visiting the KTH Kista campus, there is a service center at Kistagången 16, elevator A, level 3, open during normal business hours (with an early closing on Friday).
Directions for parcels and courier deliveries to KTH Kista.
To get to my office or lab, remember that when you come out of the "B" elevator at the 4th floor of the Electrum building you must turn right, then you will have to wait for me to let you in. (If you turn left, you will end up at a different department.)
area: Computer Communication (Datorkommunikation)
Formally the chair is described in the following Swedish: Ämnet omfattar integrerade dator- och kommunikationssystem för personlig databehandling och personalkomunikation, speciellt trådlös kommunikation och effektiva implementerings strategier. (Ref. nr 473/93). (This translates to "The area concerns integrated computer- and communication systems for personal data processing and personal communications, especially wireless communications and effective implementation strategies.")
long Vita (A4 sized, PDF)
Very brief description: A tool maker - in the sense of Frederick P. Brooks, Jr.
From 1 January 2018, KTH has merged three schools (CSC, EES, and ICT), to form School of Electrical Engineering and Computer Science (EECS) or in Swedish: Skolan för elektroteknik och datavetenskap. The external web site is: https://www.kth.se/eecs and the internal web site is https://intra.kth.se/eecs.
From 1 January 2005, KTH is reorganized into 9 schools. Organizationally, I am in the Skolan för informations- och kommunikationsteknologi/School of Information and Communication Technology (ICT)(ICT), in the Department of Communication Systems (CoS).
From 1 Jan. 2001 to Dec. 31, 2005, I was part of the Institutionen för Mikroelektronik och Informationsteknik (IMIT) in the departmental organization I was part of the Laboratory for Communication Networks (Avdelningen för kommunikationsätt) (LCN). At KTH prior to this, I was part of the Department of Teleinformatics (Teleinformatik).
I have a number of projects in cooperation with researchers at Karolinska.
Earlier I was responsible for the Computer Communication Systems Lab (CCSlab). In the CCSlab information you can find out about my graduate students, research projects, papers, etc. from this earlier time.
For information about the iPAQ. For miscellaneous notes regarding various VIA Technology computers. (Both collections of information are purely to help others utilize these devices, as others have helped me by making their notes and experiences available.)
For information about version 1 and version 3 of the SmartBadge and how to program it.
Remote rebooting a version 3 badge via an Axis Communication NetEye - photos. The SmartBadge was done in cooperation with Prof. Mark T. Smith.
For information about version 4.
If you are qualified and interested in the International Master's program in Internetworking or another Information Technology related program see: http://www.ict.kth.se/
If you are only interested in taking a specific course as an independent student ("fristående studerande"), see the KTH's general education information.
Current course(s)
Upcoming course(s)
Recent course(s):
Please note that:
I do not have any positions for students seeking to do summer projects during the period May-July.
I do not anticipate having any positions for students seeking to do summer internships.
I do not expect to take on any doctoral students within KTH. I am only interested in industrial doctoral students (industridoktorander).
Service activities
A per the protocol of the Faculty Council ("Fakultetsrådet") meeting of 2015-03-17, I am a member of the KTH reference group on language issues: "Ledamöter i KTH:s referensgrupp för språkfrågor
Dnr V-2015-0246
Handlingar i ärendet har sänts ut.
Från och med 2013 har skolan för teknikvetenskaplig kommunikation och lärande (ECE) ansvar för språkfrågor vid KTH. Till ECE-skolans uppdrag kring språkpolicyn och övriga språkfrågor finns en referensgrupp bestående av ordförande, fyra lärarrepresentanter, en studeranderepresentant för studerande på grund- och avancerad nivå och en studeranderepresentant för studerande på forskarnivå. Fakultetsrådet utser lärarrepresentanterna.
Lärarrepresentanternas mandatperiod i KTH:s referensgrupp för språkfrågor för perioden går ut 2015-03-31. Förslag på nya ledamöter i referensgruppen har inkommit.
Per Berglund redogör för ärendet.
Fakultetsrådet beslutar att utse Michael Hanke (SCI), Gerald Q Maguire (ICT), Ida Pinho (ECE) och Peta Sjölander (STH) som ledamöter i KTH:s referensgrupp för språkfrågor för perioden från och med 2015-04-01 och tills vidare, dock längst till och med 2018-03-31."
Former member of KTH's "Fakultetskollegiet (fakultetskollegium)" for the period 29 October 2010 until 31 January 2013 (note that the fakultetskollegium was replaced by a "fakultetsråd" in April 2011 - I am not a member of this board).
Former member of KTH's "Fakultetskollegiet (fakultetskollegium)" for the period February 2005 to January 2009 (extend to May 2009).
Centers and other organizations
European Institute of Innovation and Technology (EIT) ICT Labs a Knowledge and Innovation Community (KIC).
KTH participates with Karolinska Institutet and Chalmers University of Technology in two centers to facilitate "joint scientific collaboration in the fields of medicine, natural science and technology in China":

"Sino-Swedish Centre at Peking University" in Bejing
"Sino-Swedish Campus at Fudan University" in Shanghai

In additional KTH has a Joint Research Center of Photonics (JORCEP) together with Zhejiang University in Hangzhou south of Shanghai.
KTH together with Chalmers University of Technology, Technical University of Denmark(DTU) , Norwegian University of Science and Technology (NTNU), and Helsinki University of Technology (TKK) - have formed an alliance called "Nordic Five Tech" (N5T).
My lab at CoS is at approximately 59°24'18.69''N, 17°57'0.83''E.
Talks/Publications
Partial list of my publications by "Gerald Maguire" via DiVA . Another (and more accurate) way of doing this is Journal papers, conference papers, patents, chapters in books, reports, books and other. Or even fancier at researcherid.com, and ORCID: 0000-0002-6066-746X, Scopus Author ID 8414298400, Google Scholar, ...
A (partial) list of theses from DiVA for which I was the examiner.
Past Talks and publications which are available on the web.
---
Favorite sayings and interesting thoughts for the information age, etc.
A good description of my talks

  I would love to see you as opening keynote, to get participants really excited
  (both in a positive way and in the sense of being appalled...your talks
   always have this effect).
			-- Prof. Dr. Dr. Hermann Maurer, 17 Mar 1998

Other quotes about Prof. Maguire.
In addition to the link to exjobb reports above, another useful portal is DIVA - for theses, dissertations, and reports from a number of Nordic universities. I encourage students to upload the full text of their thesis to DiVA to increase the visibility of their work and to enable it to have a greater impact on society. One can generate a variety of feeds to get information from DiVA (in Swedish). Once can also access DiVA via DiVA management UI
Access to KTH library in English or Swedish.
Only for ICT faculty and staff: book meeting rooms via the Outlook calender - instructions, classroom availability → Schedule and rooms, DAISY course administration, KOPPS, userdb, access cards/accounts, Intranät, IT-service, self-reporting system, KTH IT-support, KTH Style Guide, Lärarstöd, Lärarstöd webb, Canvas implementation, WIRIS Quizzes, Course web guides (Intranet), Teacher support, ...
For ICT faculty and students: course portal Bilda, KTH Social - a social website, Adobe Connect Pro (via SUNET), ICT's IT service guides, servers, KTH Play, Canvas at KTH - KTH's LMS, and KTH's github.com/KTH, github.com/gqmaguirejr, github(s) gitr, gita, and gits.
For testing by faculty alternative login to Canvas
Examples for teachers of how to do things in Canvas can be found in CanvasHack demo course
For CoS faculty: COS WIKI, gitr, and CoS Intranät
Zotero and a verbose CSL file. To check what the styles geenrate use cslpreview.xul.
Links for language tools and KTH's language committee (KTHs Språkkommittèn) with links to the KTH language policy (KTHs språkpolicy).
The following Google SiteSearch may be useful to find information about courses and other information -- use at your own risk.
SDR and Cognitive radio
See the former IEEE Cognitive Radio Information Center 41 Project now called IEEE DySPAN Standards Committee (DySPAN-SC).
Miscellaneous useful hardware related activites
---
Offical disclaimer required by KTH central administration
Detta är en personlig hemsida och åsikter framförda här eller i tillhandahållna länkar representerar inte KTH.

This is a personal homepage. Opinions expressed here or implied by links provided, do not represent the official views of KTH.

For information contact maguire@kth.se
Latest update 15 March 2018
© 2018 G. Q. Maguire Jr., KTH/ICT