N-cube Days VII, Stockholm, October 20-21, 2017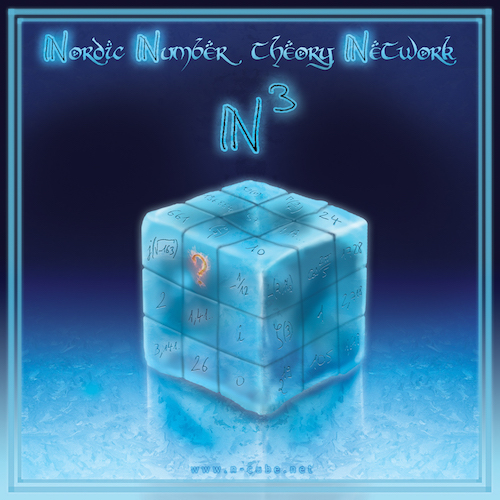 Location
KTH (room F3, friday) and Stockholm university (house 5, room 14, saturday.)
Directions
Some hints on how to get to KTH/SU via public transportation:
Speakers:
Neil Dummigan, University of Sheffield
Arno Kret, University of Amsterdam
Kaisa Matomäki, University of Turku
Ben Moonen, Radboud University Nijmegen
Rachel Newton, University of Reading
Morten Risager, University of Copenhagen
Leila Schneps, Jussieu
Arne Smeets, Radboud University Nijmegen
Program:
Friday (all lectures at KTH, room F3)
13:00 – 13:05 Welcome
13:05 – 13:55 Rachel Newton, Transcendental Brauer groups of products of elliptic curves
14:05 – 14:55 Morten Risager, Arithmetic statistics of modular symbols
14:55 – 15:20 Coffee break
15:20 – 16:10 Leila Schneps, Multiple zeta values in genus 0 and 1
16:20 – 17:10 Kaisa Matomäki, Correlations of von Mangoldt and higher order divisor functions
18:00 – Social Dinner
Saturday (all lectures at SU, house 5, room 14.)
8:45 – 9:35 Arno Kret, Galois representations for the general symplectic group
9:40 – 10:30 Ben Moonen, Half-twists and some cases of the Tate conjecture
10:30 – 10:55 Coffee break
10:55 – 11:45 Arne Smeets, Pseudo-split fibres and a geometric Ax–Kochen theorem
11:50 – 12:40 Neil Dummigan, Automorphic forms on Feit's Hermitian lattices
Titles and abstracts can be found in the program.
Organizers:
Jonas Bergström (SU), Wushi Goldring (SU), Pär Kurlberg (KTH), and David Rydh (KTH).
Registration / conference dinner:
There is no registration fee but if you want to participate we kindly ask you to send an email to Wushi Goldring, at wgoldring@math.su.se .
If you want to attend the dinner (on friday evening), please send an email to Wushi Goldring (email above) before October 9 and please mention any food restrictions you may have.
Support
Most participants are expected to cover their travel and hotel costs on their own; for younger participants there is some possibility of partial travel support. Contact Wushi Goldring (email above.)
Accomodation
Elite Hotel Arcadia is one option, it is conveniently located for quick access to both KTH and SU.